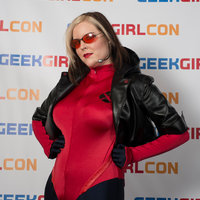 X-Treme Rogue
Role

Cosplayer

Series
Characters
Details

Hair is my own hair now and has been dyed rather than wearing a wig. I gave it a false bob to create the right look.

Cost ~60 Time ~20+hrs

I made this costume entirely myself. I ordered shiny milliskin spandex from spandexhouse.com and used my old sdanby spandex suit pattern that I had made with maths as a base. I then created the color blocking on the pattern and cut everything out. I made the glasses using lenses I found in a pair of valentines day glasses and cut them to fit the shape of another pair of sunglasses and popped the lenses in. I created the earpiece just using bits and pieces of things and wires laying around.