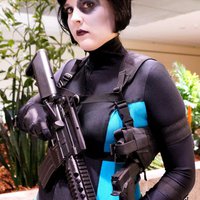 Domino
Role

Cosplayer

Series
Characters
Details

Costume made to compliment Cable and Hope cosplay group, and also so I would have a badass character, because she's pretty much badass.

Cost ~60 Time ~50+hrs

Bodysuit made out of spandex, this was my second time doing a bodysuit from scratch, still working out the kinks, it takes a lot of maths and re-doing of the pattern.

Holster and belt system made by me, buckles bought from Tandy Leathers. Shoulder holster bought online and modified. Black broach things were a set of clip-on earrings that I just needed to paint the gold silver, great find! Boots were jungle boots from a surplus store, hand sharpied because they were green. Gloves made and patterned by me with a combination of spandex and fake leather. Wig bought online. Makeup is Ben Nye, the lightest blue.