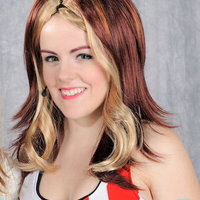 Geri Halliwell
Role

Cosplayer

Series
Characters
Details

This was a very casual and comfy costume to spend some time with friends! We thought making Spice Girls costumes would be hilarious. We had a lot of fun and a great reception from the con people. :D I'm probably the person who worked the hardest on her costume out of the four of us (but my dress is still a refurbished tshirt haha... Unfortunately our Mel. B. couldn't make it, but I have great memories of this group!

This was a one-time thing since the (black) boots were entirely painted in red acrylic with fabric medium - and they were cracking so bad at the end of the day! I couldn't justify buying 40$+ red boots when the rest of the costume cost about 40$ (and that was like, only the wig to be honest)! (Thanks to Akatsukisky for buying the wig super last minute XD)

Emma Bunton (Baby Spice): Eleclya
Melanie Chisolm (Sporty Spice): Lunedor
Victoria Adams (Posh Spice): Nini

Worn for Otakuthon 2011 in Montréal.