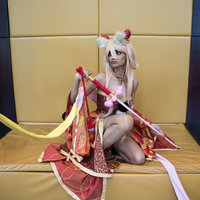 JK Suzen Gozen
Role

Series
Characters
Details

Fancy cosplay for 2018 go! Decided to play with patterned fabrics for this one as it is her "goddess" version and it would be more interesting visually than the plain fabrics.

Bottom skirt tier is from Happy Dancer Yona. Circles are chain stitches. The first and second tier are circle skirts like the bottom tier and have horsehair braid on the edges to give it some movement. Front tabbard is just a rectangle. The flower on the bottom is made from multiple circles with chain stitches lining the edges.

Top, I used a bodice pattern. It is closed in the back by hooks and straps are for helping it stay up.

Sleeves, just typical Japanese style sleeves. There are slits in them so the bias tape can run through like hers.

The puffballs on the sleeves/top are those keychain types with the hook removed and sewn on.

Shawl is made from two types of fabric.I debated on putting wire in it and having it "floating" but I don't like the wired look so I went without it.

Necklace is a base band with stamping blanks, beads and wire.

Sword, I bought a base during after Halloween sales. Lots, and lots of paint. The orbs around the hilt are ornaments without the tie thing. They are glued down to the handguard and I really hope they stay on..... The rope is braided yarn.

Ears made from two types of fur.

Head baubles are painted easter eggs attached onto a clip with stamping blanks attached to that. Detailing on the baubles are just wire glued on.


All bias tape is made from scratch and all embroidery work is done by hand.