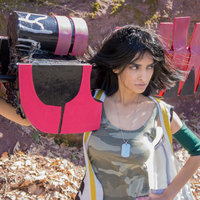 Cradle Unit Captain
Role

Cosplayer

Series
Characters
Details

The background for this cosplay is that I was playing God Eater 2 and I wondered how my GE1 character would look during the GE2 time period as a member of the Cradle Unit. Since I already had a half made coat(no idea what I was going to use it for...) I decided to just go for it and create my own design since the player is never seen in the game.

Overall I characterized my GE1 character as being very practical so the clothing design reflects this. The long coat is because long coats are cool. Lol I looked at the designs of Kota/Soma/Alisa and Lindow to get a sense of how I wanted to do the captain's since I wanted her to match but be unique at the same time.

Coat-Coat was already made for...something else. Cradle emblem on back is hand embroidered and all of the lines are bias tape(both store bought and handmade ones).

Rest of the parts were stuff I owned both from my closet and parts from my regular GE1 protag cosplay.

Used my real hair plus clip in bangs for this one. Technically I need my hair to be longer to be accurate to how I designed her but it's not at the right length yet, haha.