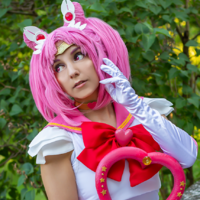 Super Sailor ChibiUsa
Role

Series
Characters
Details

Tiara, heart resin gems & bang clips by Unique Cosplay Props.
Costume from GemmaFloodStore & heavily modified by me.
Butt bow by TheNakedLaceCompany.
Prop & wig styling by me~
Special thanks to le bf Raph for providing me this cosplay for my birthday in 2020. Took so long to fix but it was worth it in the end!