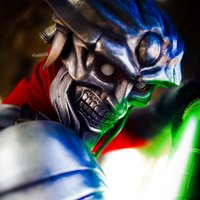 Yoshimitsu
Role

Cosplayer

Series
Characters
Details

This Costume has been on my to do list for several years now, so it was great to finally start bringing one of my fav Tekken characters to life.
(This Costume will be an ongoing project to get it as accurate as possible as the first iteration was a rush job)

I sculpted the helmet in clay, made a silicone jacket mould of it, then made a fibreglass cast from that and used aluminium metal powder mixed in with the resin so that that I could polish the helmet and give a more realistic metal look/finish.

The rest of the costume was very basic as I didn't have much free time to invest into it and so had to make it very basic. The armour is ABS Plastic that had been vacformed over fibreglass moulds then cut out and poainted with straps attached so that I could wear it all.

The Sword was made from a wooden Bokken that I had ground down and sanded into a more realistic blade shape/size, made the hilt using little tiles made from resin/ABS, the Pommel was made from Epoxy Sculpt, while I used Ox Blood coloured leather for the binding.