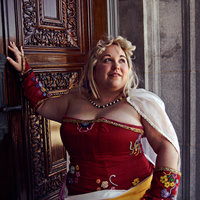 Terra Branford
Role

Cosplayer

Series
Characters
Details

This was a costume that I've had on my wish list for years, and I knew when I constructed it, I wanted it to be absolutely perfect. Of course, the sprite and cg designs are somewhat inconsistent, and its hard to find an image I could blow up enough without losing detail, so I smooshed together fan art, official artwork, game sprite/cg, and my own ideas. It took a few tries, but I am really excited with how it came out.

The dress itself was a slightly modified pattern from Butterick. Originally I had planned on edging some of the designs with Swarovski element crystals, but in the end I decided to trim all of them. Beading isn't exactly my thing, but I love how it came out! The belts/sashes were all custom fabrics designed by me on Spoonflower, while the white is basic country cotton from JoAnns, and the yellow is some weird old polyester shirt that my mom gave me to tear apart and use. The beaded belt was originally made out of hand rolled sculpey beads, but I found some beautiful glass beads online and chose to use those instead. I strung it on jewelry wire, and closed it with a tiger clasp. The brooch holding them together is a vintage one that I found on Etsy and fell in love with, despite the fact that the gem isn't quite the right color. The dress is fully lined with red bridal satin lining, with 2 layers of spiral steel boning attached to each seam, to help the dress keep its shape and so I didn't have to worry about using clear straps. The trim along the top of the dress, around the mits and the boots was hand sewn, rather than using a regular fabric or bias tape (I like the shiny).

The mits were patterned from scratch to fit my arms. I attached a small piece of gold trim to loop around my finger to keep it there, rather than elastic. The black beaded bracelet is a bunch of black glass beads that I bought to match the ones in the cloak neckpiece and on my belt, strung on jewelry wire and closed with a tiger clasp, as well as the red and green bracelets.

I found a spats pattern online, and felt that would be much less of a headache than making my own pattern, so I modified it slightly to fit, and used that, turning it into boot covers. The material is the same as the dress, and were individually embroidered and beaded, before being sewn together and attached to the boots themselves using E-6000 glue. Finally, the hair piece. I bought 1/4 yard of white cherry blossom brocade, dyed it purple in a cold water dye bath (man did it turn out brighter than expected!), and patterned out the pieces and sewed them together, with gold tassel sewn between each piece. Then I beaded them with leftover purple and blue beads from my dress, and sewed them onto a barrette, to make it easier to clip into my hair. There are also a few glass beads sewn in, and attached with jewelry wire.

For 2013, I made some changes to the costume before wearing it again. I remade the cloak using a less sheer fabric, so the gradient dye would show up better and added some flower applique to the bottom that was taken from an old wedding gown and gradient dyed the sheer belt pieces and attached some flowers from an old semiformal gown, styled a new wig, took in the mits so they would fit properly (and put some elastic in). I also got much better tights this time and painted them with smaller flowers using a stencil to ensure consistency. I also shortened the beaded belt, lengthened the neck closure piece and remade the cloth belts out of duchess satin, with the designs heat-n-bonded on, since I wanted brighter colors, and I felt it would fit the feel of the costume itself better.