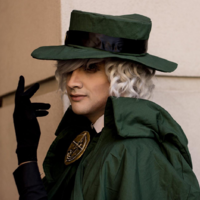 The Count of Monte Cristo
Role

Cosplayer

Series
Characters
Details

This costume was made by the talented Many Worlds Cosplay for me for an art trade. I love this costume so much, though my acting is a bit sub-par. It's easy to be a man in armor. Not so easy being an edgy literary character.

It should also be noted that this is one of the only cosplays I ever showed my whole face for. So that's worth something, right?