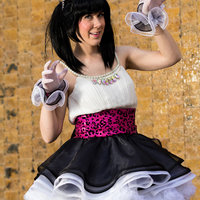 Nico Yazawa (Cutie Panther)
Role

Cosplayer

Series
Characters
Details

My absolute favorite song and best unit BiBi!! I love these cheezy live outfits! Eli is Envel, Maki is Unyuu

The skirt waistband is two layers, and outer sequin spandex layer, and interfaced, boned lining layer. The skirt is made from 4 layers of organza and hemmed with 3/8" horsehair braid. Each layer is 2 circle skirts gathered at the waist. The black is mirror organza from JoAnn and the white is Let's Pretend organza or something I believe. They are cheaper than the Casa line and look just fine, but don't press them with too hot of an iron! The skirt closes in the back with hooks and is completely removable like in the live.

I made the dress underneath with a pleated accordian chiffon fabric I bought from an Etsy seller (this stuff is expensive and hard to find) The straps are made from beading thread and four packs of the $1 pearls from JoAnn. I drafted my own pattern for it and finished it with my serger rolled hem. I made this TWICE and am not really happy with either version. Haha I hate that dress.

I made the tail from a strip of the JoAnn black velboa and stuffed it. It pins into the skirt belt, and has a little white ribbon bow.

The most annoying/silly part to make was the wrist cuffs! They are basically mini versions of the skirts, but close with snaps and are hemmed with a rolled hem and 50 lb fishing line instead of the horsehair braid. They go over a pair of lace gloves like Sora wears in the live.

For the hair clips, I used some beads from Joann, attached some pearl chain, and glued them to hair clips.

I already had the boots; they are Funtasma brand.

Photos by Cospix, Courtex Studios, Eurobeat Kasumi, Soul-Drive Photography, and Orange Slice Media
Eli is Envel and Maki is Unyuu!