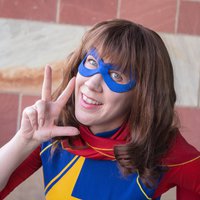 Ms. Marvel
Role

Cosplayer

Series
Characters
Details

I made this costume in 2 days to wear to Phoenix ComiCon! I need to go back and add some details still. She is fun to wear; I really love Kamala's character.

For the blue dress, I actually started with the Green Pepper racing suit pattern, removing some seams and turning it into a dress. The fabric is a blue medium weight knit I found at SAS fabrics in Phoenix. The pattern has the raglan sleeves and mandarin collar already. I used Wrights piping and bias tape for the yellow trims. I drew out the lightning bolt design and cut it from EasyWeed Stretch Heat transfer vinyl, and ironed it on (super easy!)

For the red suit underneath, I actually made it into two pieces. I had a red zentai suit that I cut up and altered for the top, and was going to use it for the legs as well. The fabric didn't stretch quite enough and I wanted the costume to breathe better, so I ended up buying tights from Party City and cutting the feet off to fit. (I have large thighs and sense a trend here...) That ended up working pretty well, but I plan to replace them with higher quality tights.

The scarf is a long piece of Casa crepe which I finished on the sides with a yellow serger rolled hem.

The bracelet is from Claire's, and definitely a place holder until I can make a better one!

I had the most fun making the mask. It was my first time working with Worbla. I drew out the shape I wanted on paper, and traced it onto two layers of Worbla. I cut these out and put them in hot water before putting them on my face to shape them. I couldn't find my heat gun, so I actually used my blowdryer to heat the two layers together and smooth the edges. After putting the two layers together, I cut out the eyes with a blade. I sanded the edges a little as well. I didn't have time to spend priming, sanding, and painting to get a smooth surface, so I stretched fabric that matched my dress over the mask and glued it on the back. I used hot glue initially, and then went over with a stronger glue to make sure it stays in place. I attach it to my face with fashion tape.

Photos by Madonia Photography, Orange Slice Media, and Kincart. Captain America is Tesla Monty!