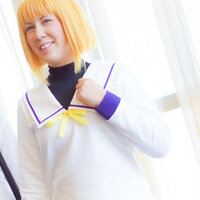 Kisa (Fruits Basket)
Role

Cosplayer

Series
Characters
Details

I have wanted to be Kisa since the original series came out! So excited it finally happened with this fun group!

Pretty basic school uniform that I handmade from a cotton twill fabric and some other scraps. The black turtleneck underneath is a separate piece. The wig started out long and curly, but I cut and straightened it since it was the right color and I wasn't using it anymore! Lots of recycled pieces on this costume.