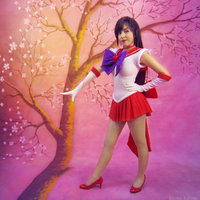 Sailor Mars
Role

Cosplayer

Series
Characters
Details

Sailor Mars was always my first scout that I intended to cosplay, but I ended up going with Neptune first! Mars definitely won't be my last though! I made Neptune in late 2013, and Mars in late 2015. I definitely plan to make a 2016 version using all that I have learned while making both, to hopefully make a perfect scout outfit! That is to say, to make it perfect by my standards- I'm sure everyone has different ideals for their vision of these outfits, but I'm very close to getting it exactly where I want my design to be!

All material use is spandex- white is double lined spandex. Most items were drafted by me, aside from the leotard, which is a modified version of the Green Pepper ice skating pattern.

Skirt is a pleated double circle skirt, and collar custom drafted, though it doesn't quite lay right, so I will probably have to redo this. All bows are interfaced with thick interfacing. Rolls are done with batting, and hand sewn to the outfit.