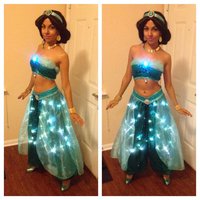 Princess Jasmine
Role

Cosplayer

Series
Characters
Details

Anyone who knows me knows that I love to go flashy for Halloween! So when debating on what to wear for 2015, I considered Jasmine, but thought my version based on the animation to be a bit too plain. While perusing different fabric stores, I found an incredibly rich teal satin on clearance so I bought it, and found that, from another store, a sequin mesh matched it perfectly, so the idea to do Jasmine's "Sparkle Series" redesign was born! This version is also seen in Sophia the First.

Since it was for Halloween, I was a bit rushed and didn't quite make it "screen accurate", since some pieces were hard to come by (gems and jewelry). I will update these pieces later! I also haven't figured out yet how to make my ideal sleeves and shoes, so those will happen later too ;P

Top is made with a bright "jade green" spandex that I've had for years. I originally intended this fabric to be used for Neptune, but thought it much too bright. I ended up keeping it solely to be used as "draping" and mockup fabric. It was pure chance that I happened to have any on hand at my school apartment while I was working on it, since it had previously been in storage for 7 months!! The overlay is a sequin and a stretch sequin trim from Joann (a Disney collection trim). The "sleeves" are tulle, but will be changed later. The front gem is a glowing diamond "ice cube" from Disneyland.

The pants were a jade green satin with sequin overlay, and a spandex waistband. The pants also have VERY deep pockets to store items as well as the batter packs for the lights! The lights are hand tacked to the pants and scattered around to look like "glitter". I've always wanted a light up costume! The organza also does a beautiful job of enhancing the lights by serving as a sort of "cross point filter", giving it that magical sparkle!

The skirt, headband, and wig were previously made for my first Jasmine costume, so I did nothing new here. I made jewelry specifically for this costume, but was displeased with the color of gold, so I ended up using bought jewelry that I had on hand (same as what I used for Jasmine before).