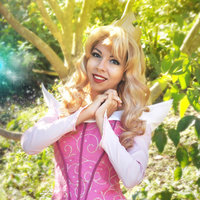 Princess Aurora
Role

Cosplayer

Series
Characters
Details

While I wouldn't say Aurora is my "favorite", I *do* love pink, and I think her dress and look are just so classic and adorable. Most of the pink fabric were leftovers from my senior collection in college. I had to buy a few things, but mostly wanted to just try to use up old fabrics, and add something pink to my repertoire! It's been a while since I've done anything pink! (Like, since Anya Alstreim in 2011, lol)

Princess shoes and bloomers are same ones I use for Belle. A tulle petticoat in white sits under the skirts to give a subtle flare. There is a two panel skirt lining that sits over that to help tame the tulle, and then the actual skirt, done in four panels, for the perfect ballgown fullness! The necklace and tiara are done in plastic and spray painted gold.

The bodice is where I wanted to put most of my design features, because I feel it is really what defines Aurora. I did a boned lining with a satin and caviar bead organza overlay. The three front seams are piped to accentuate the style lines, like in the movie. The sleeves are a two way stretch taffeta with pointed wrists for a positively elegant look.

As for the skirt "petals", they are satin lined, with taffeta and scroll organza overlay. I wanted this texture to be more subtle than the bodice, so as to not take away, but still wanted it to be a little more played up than the plain satin skirt, since it is such a decorative feature for Aurora.