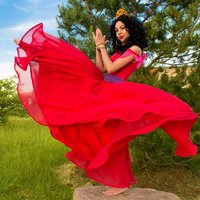 Esmeralda
Role

Cosplayer

Series
Characters
Details

I made this as an impulse cosplay for ColossalCon when my friend was inspired to make Aurora. At first I wasn't sure I could make it, but when I went through my fabric and realized I had a ton of red chiffon fabric, bit the bullet and decided to make it!

The top, I made a bit differently from the movie reference because it doubles as a swimsuit, and the way I constructed it, decided to change the sleeve area slightly to accommodate for wear and tear, and stability. All in all, it came out to be a VERY comfortable costume that I feel very secure in wearing. No accidental slippage or falling pieces. ;P

The skirt is nine yards of chiffon with horsehair braid to give it extra twirl! It is lined with an a-line peachskin skirt.