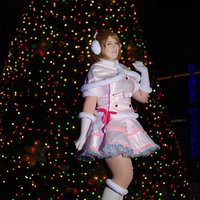 Hanayo Koizumi
Role

Cosplayer

Series
Characters
Details

AWARDS:
- Hall Cosplay Award (ALA 2014)
- Judge's Choice (Gogo Hikaru) in Crunchyroll's Love Live Cosplay Contest
- Judge's Award (SabotenCon 2014) also Alodia said I was like a real idol THAT COUNTS AS AN AWARD

Most of the materials were chosen by SparklePipsi and DaydreamerNessa; it was quite nice not to have to do that for once =3=

The top gave me a surprising amount of trouble considering this was not my first time making a princess-seamed bodice. I began with a mockup of the pattern for the top in order to remove the front seam and add one in the back for a zipper. I also had to do some tailoring on the princess seams. Despite this I still ended up with fit issues once I started making the final garment... I had to shorten the hem (after I had already finished the seam -__-;;) and add a couple inches in the back since it somehow was too small on me. I would have just re-made the entire thing had I had enough fabric to do so. The piping was bought pre-made so at least I had it easy there.

The skirt is just a two-tiered gathered circle skirt. It's probably the best skirt I've ever made if that's even something to be proud of lolol all the hems were overlocked then rolled before attaching the trim. I put in an invisible zipper properly for the first time and attached an interfaced waistband and a hook and eye closure. All seams are French seams where I could make those work. The pink trim has an odd sort of horsehair braid effect which really helps give the skirt a nice shape. Butt flap was patterned by Sparkle Pipsi and essentially constructed the same way as the skirt. Capelet was modified by a pattern and is lined as is the bodice.

Though I am an accuracy whore I made a few modifications for aesthetic reasons. NyuNyu (Nico) and I decided to do knee-high boots like the rest of the girls, because Nico and Hanayo looked oddly out of place with grey ankle boots. Plus I look really awkward in anything that cuts off at the ankle. The headband for the earmuffs is supposed to be a light yellow, but I used the same fabric as the rest of the outfit, since a) I think it looks better b) didn't want to spend money on a small amount of yellow fabric and also I was too lazy to buy any. I guess Hanayo's capelet is a slightly darker pink? But I thought that would look like I had run out of fabric and couldn't find anything to match so I just used the same fabric as the rest of the costume.