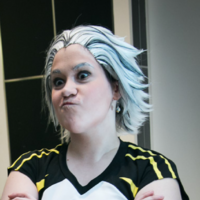 Bokuto Kotarou (genderbend)
Role

Cosplayer

Series
Characters
Details

Put together this wig from an Arda magnum in silver + 3 packs of silver and black wefts in May 2015. Bokuto is my favourite and he is the most fun to cosplay! Was a great experience in wig styling as well that I'm very thankful for.

Finally completed the costume in 2016 with my modification of a bought uniform! I cut off a good chunk of length from the shorts, and I took the top apart into separate components to re-sew more fitted, and added darts in the back. Wore it all out together at Katsu 2016!