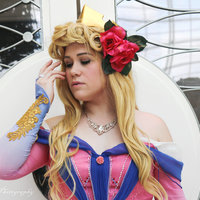 Hannah Alexander Aurora
Role

Cosplayer

Series
Characters
Details

Big costume alert for 2016! I debuted this costume at Katsu 2016 and spending 2.5 weeks almost non stop on it, do not recommend for stress purposes haha

Silk georgette fabric was dyed by the amazing VickyBunnyAngel and I could not have put this together without her work so many many thanks to her.

Design is based off of Hannah Alexander's Art Nouveau Aurora released in 2015

All drafting, garmet construction and embellishment was completed by me. All lace was hand dyed gold by me. Wig styled by me and was an Arda silky Ororo in custard. Crown was made from black worbla.