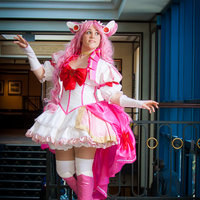 NoFlutter Chibi Moon
Role

Cosplayer

Series
Characters
Details

Getting to make this costume as a part of the Canadian NoFlutter Sailor Squad was a dream come true: being able to cosplay with friends and cosplayers I look up to and respect :) Definitely one of my highlights of Katsu and I'm excited to fix up the costume to wear again this year!

Made and drafted everything on this costume from the bolero to the crinoline pushing up the crazy skirts and styled the wig. Thanks to Olivia's Atelier and Cosplay for making the odango covers for me though, as I ran out of time before the con. White is all a cotten satteen, and the lighter pink is a polyester satin that wants to pretend its dupioni based off its front pattern, and the darker pink and red for the bows are taffeta. Gold is a silk dupioni, and for the skirt the pattern was hand dotted on with black fabric paint. Corset is fully boned and lined and all bias tape was hand-done. Wig is an Arda Chibi in Baby Pink, with the wig stubbed, and 2x long curly clips and 1x full pack of long wefts for the odangos. All gems were resin cast.