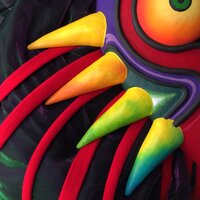 Majora's Mask
Role

Cosplayer

Series
Characters
Details

I added a cloak of tentacles to one of my handmade Majora's Mask replicas to turn it into the boss fight version of the Mask, from the original N64 version of the game. (In 3DS, the boss' tentacles have been recolored gold for some reason.) With a pair of long black gloves backed with more tentacles, which I can slip out from under the cloak to gesture at people, this costume becomes a fun Kaonashi-style creeper.
For SakuraCon 2015, I created a prop Majora's Moon from a silvery-grey helium balloon I painted with acrylics. Toting the moon around all day was a blast and attendee responses were great!

http://hylianjean.deviantart.com/gallery/30143729/Costumes-and-Textiles for more photos and photoshoots of my costumes!