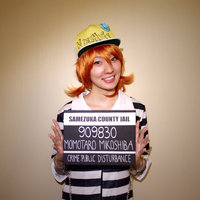 Fem Prisoner Momotaro Mikoshiba
Role

Cosplayer

Series
Characters
Details

I got the wig from Ebay and trimmed/layered the bangs and tied the sides into pigtails.

I'm reusing my yellow contacts from Alice and Rabbit Shop that I wore for Shizuo (although it was originally bought for Fem DTK but didn't arrive on time).

For the cap, I borrowed black-shinai's(dA) white snapback, placed a yellow fabric against it to get a pattern, and sewed the raw edges in. The lettering was done with a black sharpie, and the flower was hand-sewn on. I sewed a bit of the yellow portion onto the main cap for more security.

The costume was bought on Amazon. I ripped out the numbers on the front and covered the back lettering with a white rectangular piece of fabric with "Samezuka" written on it in Japanese. I also took in the sides a bit around my hips.

The sign is made with poster board, printed paper, and silver sharpie.

I'm also wearing a beetle necklace I got from Macy's a long time ago. Whoo Pyunsuke!