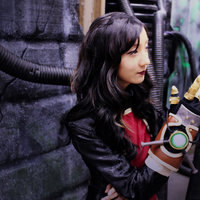 Asami Sato
Role

Cosplayer

Series
Characters
Details

I'm wearing a half wig here! My real hair was around shoulder length when this was taken. The outfit and glove were handmade. A tutorial on the glove can be found here: [http://youtu.be/d6NuwyRvRLE]. It was my first time making a jacket and people seemed to like that I used a textured fabric! It made me happy //A\\. It was also my first time making a high, stand-up collar.

This was the first time I made pants too. You can see a tutorial here: [http://youtu.be/_l3n64OXyIM]. Also, if you want to see a bit of me explaining the jacket, you can check this out also! [http://youtu.be/sE93yqRXmX0]

This version is not completely done, as I need to add her shoulder and elbow patches and get more correct shoes. Otherwise, it's finished!.

Shot at Anime Expo 2014 by black-shinai (dA).
Edit by Hikari Shio.