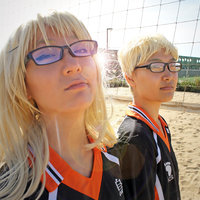 Fem Tsukishima Kei
Role

Cosplayer

Series
Characters
Details

The outfit was bought on eBay and the wig was my old SeeU wig that my friend (redheadwholovesbasketball on Tumblr) styled.

The only part I made of this outfit were the kneepads.

On a side note, sports anime is so much fun to dress up in. And so comfortable.

Photography by black-shinai on dA.