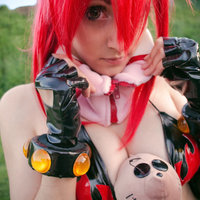 Yoko Littner
Role

Cosplayer

Series
Characters
Details

This costume was so much fun to make. I love working with vinyl although its a love/hate relationship. This time I used wax paper to sew a lot of the seams, and that trick worked so the stuff wouldn't stick while I was sewing. Major thanks to Animeisha for donating the studs for my belt, and also major thanks to Kyandi for not only providing me with red vinyl for my flames, but also casting my gems for my wrist bracers as well! They came out beautiful! I found the boots on electrique boutique and altered them myself.

Back in 2010 I revamped parts of my Yoko costume for ConComics in Guadalajara, Mexico (gloves, skull clip, and shorts). I was unable to wear the costume there due to time restraints. Yoko is one of my favorite characters so I decided to purchase a new wig and contacts and get new photos taken.

The new wig is from Arda Wigs called Jeannie in the color Apple Red.

The new gun was bought from OwlDepot and was a collaboration between her and propmaker Fabian.