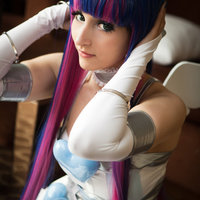 Stocking
Role

Cosplayer

Series
Characters
Details

From the very moment I watched the promotion trailer for this anime on youtube, I fell in love with Stocking. When the series came out and I was watching it, I found that my love for stocking right off the bat was for a reason. I can relate to her in ways, specially with the love of sweets and goth stuff! Her hair style also appealed to me since it consists of my two favorite colors! So I was quite happy when PeachyKiki came to me and asked if I wanted to do these costumes for Anime Central 2011!

This is the first cosplay that I have ever worn contacts for. I just wanted to get that dolly-eye look, so I purchased some green circle lenses. Needless to say, I love them! To me, her eyes look green, but I know others find it to be a teal or even blue. I decided to make this costume out of bridal satin. A nice white fabric that is opaque and can't be seen through easily. However, the top likes to pull in funny ways due to the fabric grain. Perhaps I shall re-make the top when I have the time. The wings, stockings, collar, headbow, and armwarmers where super easy to construct. I am super happy with how my corset turned out, and it is even lined with a blue and white striped fabric!

I even made my own honekoneko plush bag so I could have something to carry my stuff in while I wondered around the convention floor!

PeachyKiki made our hearts out of vaccuum formed plastic which we just sewed onto our costumes.

My sword prop was made by Nick Accristo of www.nickaccristo.com! Thanks Nick~!