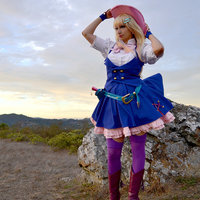 Sheryl Nome
Role

Cosplayer

Series
Characters
Details

This costume has been on the backburner for over a year sadly. I just had stronger urges to work on other costumes unfortunately. But now it's done and I'm super happy! I'd say this costume was pretty involved. There were a lot of parts to construct. I'd say I'm most proud of the blouse and vest.

The blouse was made from 2 patterns. One for the basic structure, and one for the sleeves. I drafted my own patterns for the yoke and the collar. I didn't add interfacing to the collar like I probably should have, but I wanted the bow to fit around the collar comfortably without the collar "crunching" oddly.

The skirt and the underskirt are your basic circle skirts. Originally I was going to make my own pink ruffle trim, however I lucked out and found premade trim in the exact color of my fabric! That made my life a lot easier when making the underskirt. The vinyl piping/bias tape on the skirt/gloves were made by me using scraps of old fabric I had left over from making I-no. The belt buckle for the gun holster belt was taken off of a belt I bought at Goodwill. The gun is a pink toy gun with a custom painted handle and I added a gold tone chain with Sheryl's gold heart charm from a Macross gashapon keychain.

The hat was bought from a Goodwill, as well as the shoes. Shoes were custom painted with leather paint mixed with a bit of acrylic to achieve the color I wanted.. The hearts are cut out of vinyl and glued on with fabritac. Jewels bordering the hearts are scrapbook findings! I made the tassels from leather cording and pleather which I painted to match the boots. I punched holes in the back of the boots and added eyelets in them so I could attach the tassels. The garter thigh highs were made from purple nylons and purple lycra. The nylons were cut to size then sewn onto the custom lycra garterbelt.

Earrings bought on eBay from cocosilverhk.