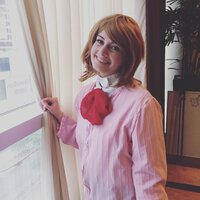 Yukari Takeba
Role

Cosplayer

Series
Characters
Details

Sewing knits is the bane of my existence but I wanted her sweater to look right so I made it. First it was hard to find a pattern that was meant to be used with knits and I ended up using Simplicity 2154. It was supposed to have buttons but I replaced them with the zipper. The fabric was also a nightmare. Nothing was rib knit unless it had tiny ribs or was the wrong color. I actually found the perfect fabric months ago, ordered it, and was told it was already out of stock (and it was a clearance fabric so it was not coming back in stock). I scoured the internet and local store and finally found the most adequate fabric I could and ordered that. The shipping charge was really high and the fabric arrived dirty so I don't plan on ordering from them again. The fabric also had some sparkle plastic cellophane nightmare sewn onto the right side so I ended up using the wrong side. I want to fit it better later, but it actually turned out better than expected.
I made another black pleated skirt and I'm still not happy with it, I need to make bigger pleats to accommodate my large child bearing hips since they just sort of flatten out when I put it on.
The choker is white stretch sateen with interfacing on both sides. The heart is sewn onto one end and it is fastened with a snap.