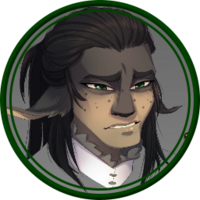 Elijah Talas
Role

Cosplayer

Series
Characters
Details

Elijah (Eh-Lye-ah) is a firbolg from the homebrew country of Sitia. He comes from a tribe of isolated druids who wanted nothing to do with the outside world after his parents had led some ill-intentioned people to them.

At the beginning of the campaign, Elijah is a Nature Cleric who had recently left his tribe and wandered into the neighboring country of Ixia.

Having never experienced anything outside of his tribe, this new world was very scary, tragic, but exciting. He's pretty much as country bumpkin as one can get. He has rather peculiar habits but is otherwise pretty easy going. Though tends to bottle up most negative feelings until they sort of just come out.

More recently, Elijah was more or less forced to change his class after a nasty run-in with a big bad. Not wishing to lose his connection with nature, he took up becoming an Oath of the Ancients Paladin. This way he could still heal his friends when they needed it but could be a bit more hands-on in defending them.

======

I'm hoping to make his Cleric outfit first, which is the one with the green vest. However, his paladin armor is pretty dope and I REALLY want to test my prop making skills by making his Moon-Touched Sword...the blade glows in the moonlight...it's pretty awesome.