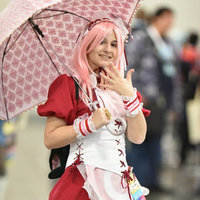 Haruno Sakura
Role

Cosplayer

Series
Characters
Details

This Lolita was made by Antiquity-Dreams on Deviant Art. I can't thank her enough for it, thanks so much! I commissioned her for a Sakura Lolita with the base of the first Sasuke Lolita.

Shoes were bought off of milanoo.com, before buying from them, I recommend heavy caution, as I later found out that they are known for occasionally scamming with low-quality products.

Wig was purchased from cosplaywig on ebay

Socks were purchased at Party City back when I went to get my Alice dress

Parasol was bought at ALA 2010

My wrist cuffs were made by a close friend of mine as a birthday gift to complete the look!