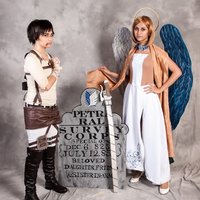 Eren Jaeger
Convention
Animé Los Angeles 2015 (ALA)
Role

Cosplayer

Series
Characters
Details

I dressed as Eren for TricksterRedux's and my skit for the masquerade. All make up was done by her. She made the harness, altered the shirt, made my bandages, and styled the wig. The boots and pants however, are owned by yours truly.

Have questions about the process?
Shoot TricksterRedux a message and she'll get back to you ASAP!