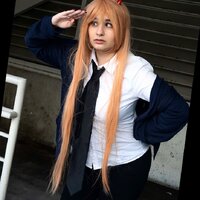 Power
Role

Cosplayer

Series
Characters
Details

I am in love with Chainsaw Man! I started reading the manga back in 2019, but as soon as I caught up, I ended up forgetting about it. Now years later, it has an anime adaptation, and I'm all here for it!

Wig and jacket were purchased off Amazon

Horns were made by The Shimmering Chimera

For the shoes, I got some white tennis shoes from Amazon and replaced the shoe laces

Everything else? The closet, baby!