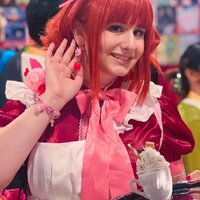 Ichigo Momomiya
Role

Cosplayer

Series
Characters
Details

For years, I've always wanted to cosplay Ichigo. But as time went by, I just never got around to it. When I decided to return to cosplay, I made Ichigo my new goal!

Mini Masha was given to me by another kind Mew Ichigo cosplayer at Anime Los Angeles 2023

Earrings are from Peach Slice Creations

Bracelet from another vendor at ALA

Wig was purchased from Doki Doki Cosplay and styled by Trickster Redux

Costume was purchased from Miccostumes

Shoes? I took some regular black tennis shoes and replaced the black shoe laces with pink ones, and cut out a heart from felt and pasted it on.

The props are a fake coffee drink from Etsy, a mock pastry from another con, and a menu made by yours truly.

For the menu, I took some references of what actual maid cafe menus look like and recreated one for "Cafe Mew Mew" in Photoshop. The individual images are also all taken from google of real desserts and entrees served by Japanese maid cafes.