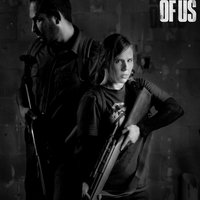 The Last of Us - Group
Role

Cosplayer

Series
Characters
Details

Ellie and Joel
Debuted at A-kon 2014

The Last of Us is one of my favorite videogames, so I really wanted to make this cosplay. We had a lot of fun wearing these costumes. They were by far the most comfortable and I actually had a backpack to carry things in. I had a lot of fun distressing our clothes and gear. I tried several methods, but acrylic paints worked the best and didn't wash out.

I love props and this was definitely a prop heavy cosplay. We each have pistols, I have a rifle with a scope (yeah upgrades) and Jace has a shotgun and the upgraded scissor pipe. I made one of Ellie's joke books and we even had the flashlights on our backpacks. We have since included bricks and the shrapnel bombs to our arsenal.

Clicker Masks
Debuted at MetroCon 2014.

Supplies :
1 can of Great Stuff
1 plastic mask
a hat or paper mache
a small amount of transparent black material or fishnet
lots of hot glue
acrylic paints

This mask was fairly easy and cheap to make and we were able to make it in only a few hours. We decided to use an old ball cap that we had laying around and cut the brim off of it. You can use paper mache, foam or anything you want for your head base, but we thought a hat would be pretty comfortable and it worked great. We attached the plastic mask to the hat at the top with hot glue. Then we covered our wig stand in a trashbag because that Great Stuff gets everywhere and sticks to everything. Next we put our hat/mask combo over the plastic bag and then proceeded to cover it with Great Stuff, which is the blob you see at the top left. You want to make sure to wear gloves and wear clothes you don't mind getting dirty. You also want to make sure you do this outside or in the garage. After you blob a bunch on the head, you can make separate blobs on a flat surface, these are going to be your "petals". You are going to leave that to dry for 3-4 hours. Edit: It is best to wait 8-10 hours, especially if it is humid outside, and not be impatient like us because one of the masks seemed dry, but continued to expand. We had to remove the hat and trim down the inside until it was wearable again.

When everything has dried and you have a blob helmet, you can begin the trimming process. There are many ways to do this, but for us we just flattened the front of the face and shaved down the forehead till it sloped at backwards angle. We left the back untouched except for a few holes we cut out for hair to stick out. We also cut out eye holes, which is very important if you want to see where you are going. Don't worry you can hide them with the petals. You can see what we did in the upper right.

After we cut off what we wanted we started adding the pedals. I call this the floral arrangement stage. We cut our separate blobs we made into smaller pieces, kind of like you would cut a tomato. We then had several leaves we could choose from and arrange how we wanted. To disguise your eye holes, you can glue a smaller petal like eyebrows over the eye holes and petals directly underneath the eyes. We used a cheap fishnet glove and cut small squares of fishnet to glue to the inside of the mask over the eye holes to hide them further. We glued the petals from the outside going in, so we would have that split down the middle like they do in the game. You want to use your biggest pedals on the outside and the smaller ones towards the middle.

Now that you are done creating the mask, it is time to paint. We used a base coat of grey Plasti Dip spray to cover the entire mask. Then we used a light coat of white Gesso. You can still see the grey through the pores, which gives it a very nice 3-D effect. We used a bright yellow around the edges and a mixture of brown and red around the very tips. Lastly, we painted a bit of black in the very center.

The mask was a lot of fun to make, so I hope you enjoyed this write up and have a great time cosplaying! Now go scare the crap out of people.