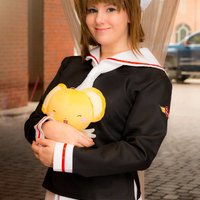 Sakura Kinomoto
Role

Cosplayer

Series
Characters
Details

Let me tell you, this costume almost brought me to tears. Card Captor Sakura was one of my first animes as a young child and I was OBSESSED with it. It started my CLAMP obsession and really got me into the anime and manga genres.

The Clow cards and book are actually the official merchandise from the original release from back in the 90's!

I cannot wait to wear this to more cons, and eventually make my own Kero plushie and more intricate outfits of hers!