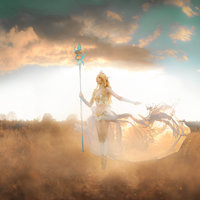 Janna
Role

Cosplayer

Series
Characters
Details

Costume debuted at PAX East 2013.

The armor pieces (bust, hip, leg, etc) are all made with a combination of wonderflex, worbla, and friendly plastic. The jewels and crown were cast in clear resin. The skirt is made with two layers of fabric. The under layer is an embroidered organza and the top is chiffon. The staff rod is PVC pipe and the top portion is made with plexiglass, clear plastic, and hot glue painted with nail polish.

Costume took one month to construct.