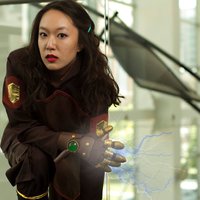 Asami Sato (Books 1 - 3)
Role

Cosplayer

Series
Characters
Details

Debuted: September 2014

This was the first cosplay I had ever done! I had the cosplay commissioned, minus the glove, which I had made myself. The glove was made from a brown leather glove with craft foam, acrylic paint, resin cured with green pigmentation, and wires.

I've honestly thought about remaking the cosplay myself if I had the chance, but right now it's not a priority, and I still do enjoy cosplaying with the commissioned outfit. It's just a matter of getting my natural hair to wor with this cosplay, which is a pain sometimes since it's naturally stick straight.